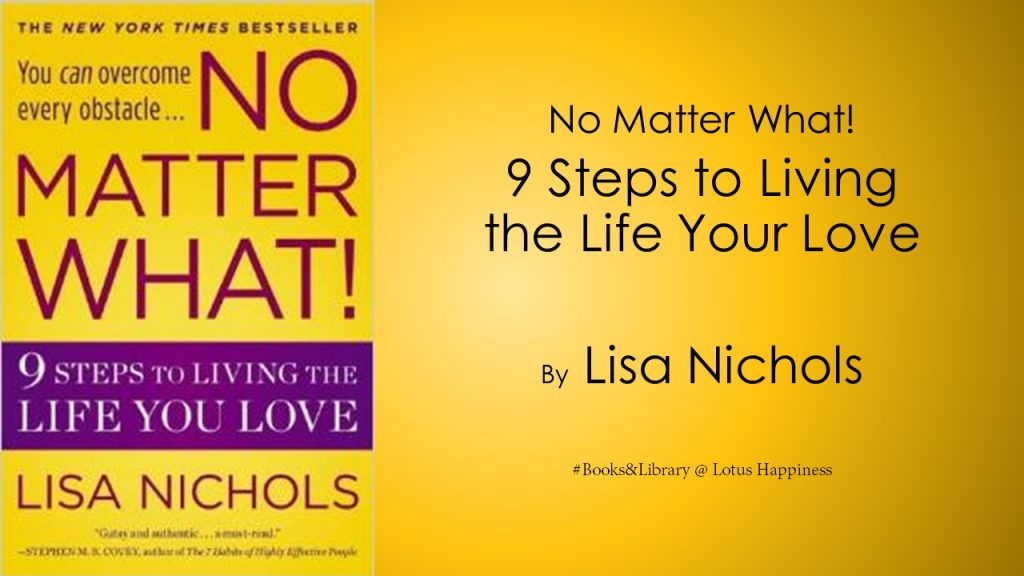 This is the book released by Lisa Nichols, known to millions from her appearance in the film and book The Secret.
In this book, you learn about the candid truth of her past "screwed up" life and how she overcomes all the obstacles and challenges to emerge as the champion of life. Now she is sharing with the world on how to live the life the fullest by developing the essential nine major "bounced-back" muscles to be resilient in the face of adversity and challenges.
1. Understanding Muscle
Always go within you – your heart- to look for the light in every situation. Open your heart, be empathetic and  always put yourself in another person's shoes to see the bigger picture. Then, you will be more understanding and wise in each circumstance.
2. Faith-in-Myself Muscle
Love yourself, treat yourself with respect and kindness. Always surround yourself with people you who can celebrate the beauty in you and encourage you all the way. Switch off the negative opinions in yourself and noise from others that could affect your self-confidence.
3. Take-Action Muscle
Have clear and original goals, and keep in view of your highest dreams. Do not let circumstances steal your dreams or make your side-tracked along the way.
4. I-Know-Like-I-Know Muscle
Open yourself to the highest intelligence, whatever your call them – God, Allah, Mystic Law, the Universe.. etc. Infuse yourself with the highest power to tap into your greatest potential. Learn meditation, breathing techniques or prayers to gain a greater source of strength. Gratitude is the key to being at presence with your higher power.
5. Honesty Muscle
Be true to yourself, be clear about what works and what doesn't work in your life and take responsibility to address those that don't work with detachment.
6. Say-Yes Muscle
Acknowledge your inner voice that is your life calling, test the waters by saying "yes" in small ways. Be committed throughout the process to fulfill your dreams by formulating practical strategies.
7. Determination Muscle
Focus on your target, goals and stay firmly connected with your inner wisdom and the people you love for assistance.
8. Forgiveness Muscle
Identify the negative feelings around old issues, be honest with yourself. Connect with your self-love, find compassion and embrace forgiveness to both yourself and others.
9. Highest Choice Muscle
Be fully aware of the unhealthy behavior that you want to change and choose the ways to solve the problems. Remember, align your choices with your highest aspirations.
Your Recommended Library Collection: 
No Matter What!: 9 Steps to Living the Life You Love
---
Let's Connect Now
Follow us by Liking our Facebook
Subscribe our Newsletter 
Support Lotus Happiness 
Do support Lotus Happiness in the Dharma propagation by purchasing a copy of the Lotus Sutra in the Amazon.
PDF Ebook is available for purchase – The Lotus Sutra and Its Opening and Closing Sutras. 
Share with your Friends
Enjoying the post? Leave a comment or share with your friends!