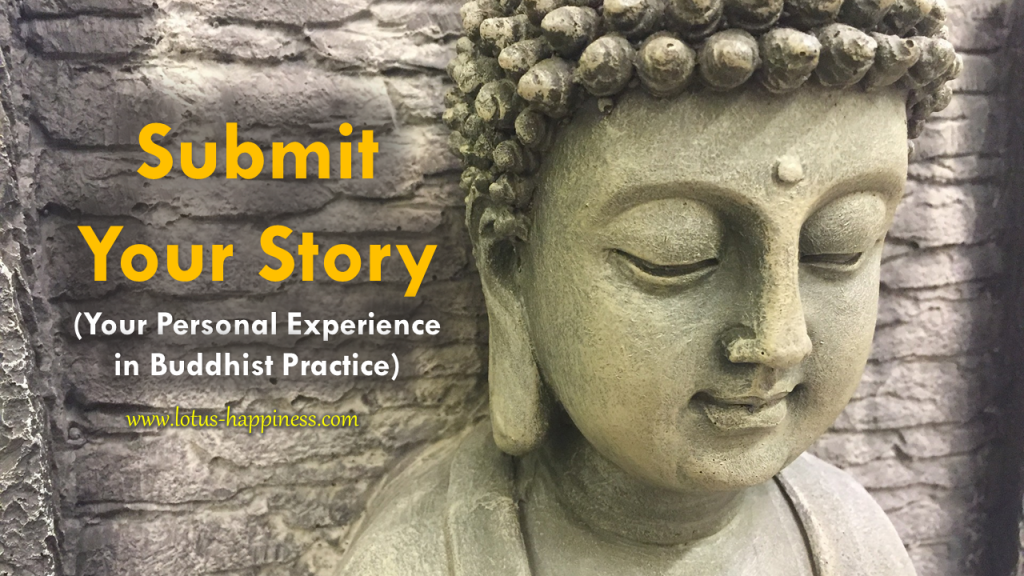 Have you scored a victory in your Buddhist practice?
Does your Buddhist practice transform your life for the better?
If your answer is yes, here comes a golden opportunity for you to share your experience at Lotus Happiness!
So long as you are a Buddhist belonging to any schools/sects of Buddhism and you have a personal experience to share, we would like to hear your stories! You will never know that your experiences could tremendously inspire many people around the world.
We are looking for real life personal experiences/testimonials/actual proof in any of the following three categories (pick only one):
Personal Transformation from Buddhist Meditation  (Mindfulness/Vipassana Meditation or Samadhi/Concentration Meditation)
Personal Transformation from Buddhist Mantras/Chanting (Any Mantras)

Divine Intervention

 from Buddhas/Bodhisattvas (include Bodhisattva Avalokitesvara, Green/White Tara, etc)
Writing Guidelines:
Step 1:    Begin with a summary or overview of your personal story.
Step 2:    Share a genuine personal experience, testimonial or actual proof in your life as a result of your Buddhist practice, be it chanting or meditation or divine intervention. (Keep the word limit to be between 800 to 1800 words.)
Step 3:    End with a quote from the Buddha, Buddhist leaders or Buddhist sutras.
Details of Submission: 
1.     You may submit your story in the form below.
Your name
Your email
Your brief bio
State the Category: Meditation, Chanting, or Divine Intervention (pick one)
Title of Your Story:
Content of Your Story:
3.     Any photos are optional but they will be very helpful for readers.
Submit Your Story in the Form Below:
Sharing your experience is a great way to accumulate merit and good fortune. Thus, be a beacon of inspiration to your fellow Buddhist practitioners! Share your Buddhist experience today!
"Share your knowledge. It is a way to achieve immortality."
― Dalai Lama XIV