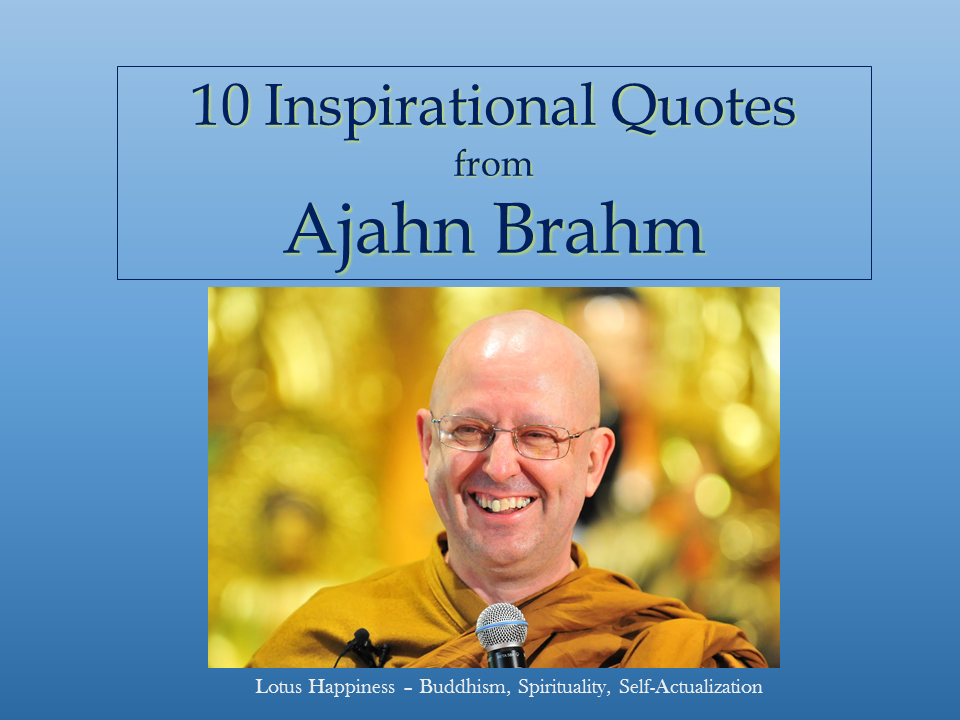 10 Inspirational Quotes from Ajahn Brahm
Ajahn Brahm is a British Theravada Buddhist monk who is currently the Abbot of Bodhinyana Monastery in Western Australia. He is also the Spiritual Director of Buddhist Society of Western Australia, Spiritual Advisor to the Buddhist Society of South Australia, Patron of the Brahm Center and Buddhist Fellowship in Singapore, to name just a few.
Born as Peter Betts, Ajahn Brahm won a scholarship to study Theoretical Physics at Cambridge University in the late 1960s. After graduating from Cambridge he taught in high school for one year before traveling to Thailand to be ordained as a monk at the age of 23. He subsequently spent 9 years studying and training in the forest meditation tradition under Venerable Ajahn Chah.
Ajahn Brahm is well-known for his jolly expression and his light-hearted preaching which never fail to inspire joy, peace, and hope to many of his followers. Here are the 10 inspirational quotes from Ajahn Brahm:
Quotes #1
"Love is the ability to embrace the imperfections of another, of ourselves and of life." – Ajahn Brahm
Quotes #2
"Instead of having a fault-finding mind, develop the beautiful attitude of gratitude." – Ajahn Brahm
Quotes #3
"A lot of anger comes from not seeing the full picture, from not understanding the truth of the matter." – Ajahn Brahm
Quotes #4
"You can't always cure, but you can always care." – Ajahn Brahm
Quotes #5
"Always put happiness and joy into whatever you are doing."  – Ajahn Brahm
Quotes #6
"Your real home is not the house you live in, but the stillness and peace in your heart."  – Ajahn Brahm
Quotes #7
"Forget about the results. Creating the causes; that's your work. The results will come by themselves."  – Ajahn Brahm
Quotes #8
"When you want something more, you cannot enjoy what you already have." – Ajahn Brahm
Quotes #9
"Never allow your knowledge to stand in the way of truth." – Ajahn Brahm
Quotes #10
"It's amazing how free you can be, if you don't limit yourself to your past." – Ajahn Brahm
Source: All You Need is Kindness: A Collection of Ajahn Brahm Quotes