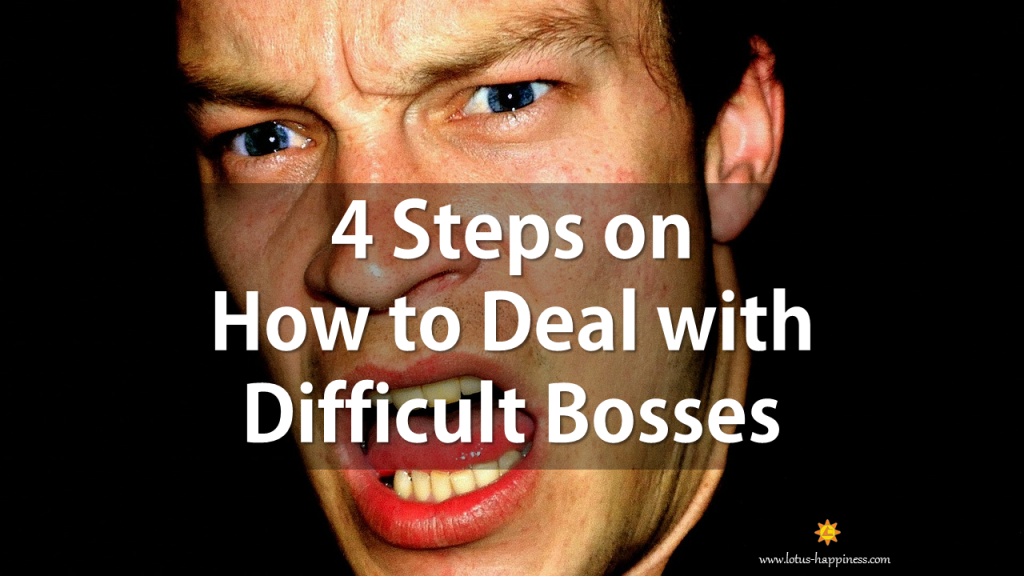 4 Steps on How to Deal with Difficult Bosses
Want to deal with obnoxious bosses but not sure how to communicate with them?
Most bosses never attend "Boss School" and have no ideas how to manage or motivate their employees effectively. Most of these bosses have difficulty communicating with their employees. Thus, employees do not get timely performance feedback and have no clarity on the direction of key projects and the list goes on. Some of these bosses have problems with anger and emotional management and they fly off the handle easily by yelling or hurling expletives at their staff.
How do you deal with difficult bosses? What phrases and words can you use when confronting them?
Dealing with difficult and bully bosses is by no means easy. However, it can be done so long as we confront them with empathy, openness, and respect. Here are the 4 steps on how to deal with bully bosses as well as some recommended phrases to use:
Step #1: Confront the Bosses
If the Boss is Obnoxious in His Behavior:
Comments like that are unproductive and do nothing but create bad feelings.
If you have negative feedback about my performance, please give it to me privately.
Please don't call me, or my ideas, "stupid."
If the Boss is Ambiguous in Giving Direction:
I really value my job here and want to improve. That's why I need to discuss….
Working here has been a highly positive experience, but I do need to discuss several issues with you.
As you know, I try to provide excellent customer service but something is getting in the way.
Step #2: Use Respect-Demand Strategy
If the Boss is Obnoxious in His Behavior:
I respect your opinion (respect), but I will not listen to inflammatory comments. (demand)
I would like to increase my sales volume, but hearing how bad a job I'm doing doesn't help.
We all try to provide great customer service and embarrassing my team in front of the customers destroys our efforts.
Step #3: Be Specific About Your Goal
I would like to know specific ways I can improve.
Please let me know what results you expect and how I can recognize them once I've reached them.
How will I know if I am getting this right?
Step #4: Conclude Your Discussion
Thanks for discussing this with me. I feel much better and look forward to moving on.
I appreciate your feedback. I know this will help.
Thanks for letting me know your views and hearing mine.