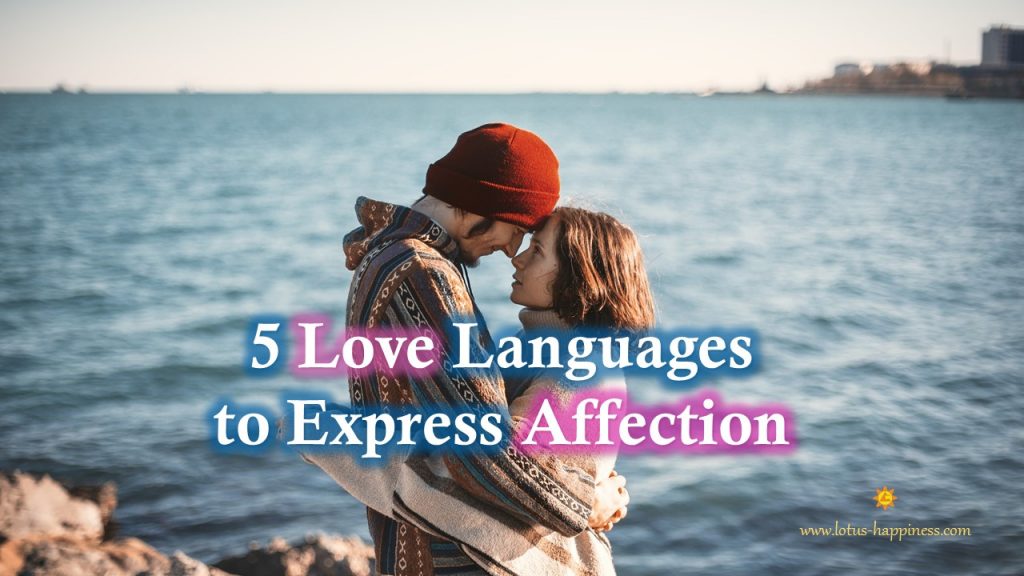 5 Love Languages to Express Affection  
Maintaining a fulfilling relationship is never easy. In life, you wear different hats for different roles – husband/wife, parent/children, boss/subordinate, friends/customers. A relationship can be a double-edged sword: it can be as fulfilling as it is frustrating.
The most meaningful relationship, however, is our loved ones such as our spouse, children, parents, siblings, and close friends. The question is, how to express genuine love and affection to our loved ones?
According to The 5 Love Language: The Secrets to Love that Lasts by Gary Chapman, the veteran marriage counselor, love has its own language. To express love and affection effectively, one needs to first identify the primary love language of your spouse or your loved ones such as your mother or father. Different person has different love language in order to feel loved. If you do not speak the right love language, all your efforts of expressing loves will be in vain. The key is to express affection according to his or her preference, not your preconceived notion of love.
Mother's day is around the corner. Let us find out more about the five love languages so that we can express our love to our loved ones more effectively.
#1 – Words of Affirmation
Words of affirmation are verbal compliments and appreciation, words of comfort and encouragement, words that inspire kindness, humility, and generosity. Refrain from nagging, complaining, criticizing and condemning your loved ones. Avoid using Sarcastic, intimidating or threatening words in the conversation as well.  All these actions could ruin an otherwise harmonious and loving relationship.
Examples:
"John, I want you to know that I really appreciate you helping to do the laundry."
"I love your cooking. The chicken is so crispy and delicious! You are indeed an excellent cook."
"Do you think it is possible to help me out with the housework this weekend?"
The Buddha always teaches his disciples to speak well. Words have power. Be mindful of your speech – the tone, choice of words, and how the speech is delivered are all crucial.
#2 – Quality Time
Spending quality time with your loved time can be enormously challenging in this time-starved era.
Your presence counts as much as anything else. Women usually have higher inclination of spending quality time with their loved ones. What constitutes quality time?
Focused attention (listen attentively and with mindfulness)
Quality conversation (a sympathetic dialogue where both are sharing their thoughts, feelings, experiences in an uninterrupted environment.)
Quality activities (engage in activities that both share an interest in)
Mindfulness is key to have quality time with your loved ones. Try to minimize distraction and interruptions as much as possible. Get in the spirit coined by Jon Kabat-Zin – "Wherever you are, there you are" and you will experience the joy of presence.
#3 – Receiving Gifts
A gift is an expression of the heart. Try to give something meaningful, useful, relevant and appropriate for different occasions. Always ask yourself, "What is the most suitable gift I can give for him/her?" Thus, knowing the preferences and needs of other person is essential. Giving a meaningful gift is a skill. It is a reflection of how much you understand the other person.
Generosity is the first of the Six Paramitas required of a bodhisattva. Remember, generosity is the epitome of love.
#4 – Acts of Service
Doing the laundry, preparing dinner, running errands, cleaning up the house, changing baby's diaper, trimming the shrubs … Helping with the household chores is not a glamorous task but it is love. Lending a helping hand to relieve the burden of your spouse having to manage the household chores all alone is an expression of love.
Always request kindly, rather than demanding him/her to do something for you. Always be respectful and people will be more than willing to lend a helping hand.
#5 – Physical Touch
Many research projects have shown that babies who are held, hugged and kissed more often develop a healthier emotional life than those who are left untouched. Give a warm hug and a kiss for your spouse and your children. Our bodies have aura and energy. When we embrace someone, we are giving out loving energy to nourish the spirits of another person. Do not underestimate the power of touch in expressing love.