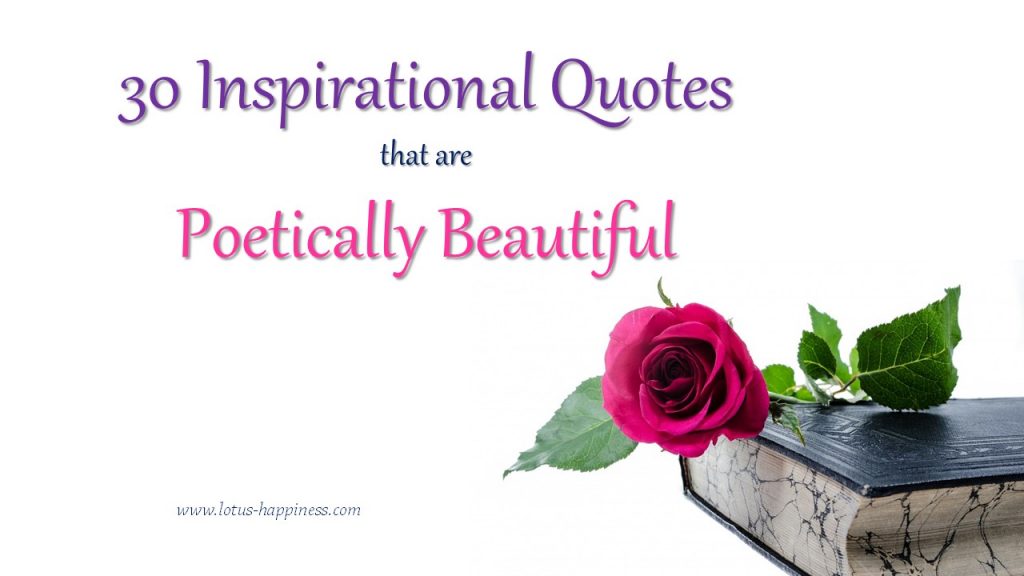 30 Inspirational Quotes that are Poetically Beautiful
I love quotes, especially those quotes that are not only delightfully inspirational, but also stylistically elegant and poetically beautiful.
It is impossible to list all quotes that are as uplifting as they are poetic. Here are 30 thought-provoking quotes that have infused a myriad of literary devices such as chiasmus, rhyme and rhythm, metaphor, repetition, alliteration, etc:
Quote #1: Do What You Love
"Success is not the key to happiness. Happiness is the key to success. If you love what you are doing, you will be successful." ― Albert Schweitzer
Quote #2: Keep Your Dreams Alive
"Cherish your vision and your dreams as they are the children of your soul, the blueprints of your ultimate achievements." ― Napoleon Hill
Quote #3: Be Mindful of Your Attitude 
"It is your attitude, not your aptitude, that determines your altitude." ― Zig Ziglar
Quote #4: Embrace Lifelong Learning
"Don't go through life, grow through life." ― Eric Butterworth
Quote #5: Don't Underestimate the Power of the Mind
"Whatever the mind can conceive and believe, it can achieve." ― Napoleon Hill
Quote #6: You Reap What You Sow 
"Life truly is a boomerang. What you give, you get." ― Dale Carnegie
Quote #7: Appreciate the Beauty of Silence
"When I am silent, I fall into the place where everything is music." ― Rumi
Quote #8: Do Small Things in a Great Way
"To be successful you don't need to do extraordinary things, you just need to do ordinary things extraordinarily well." ― Jim Rohn
Quote #9: Success Doesn't Come Easy
"Success is the good fortune that comes from aspiration, desperation, perspiration, and inspiration."― Evan Esar
Quote #10: Know Yourself, Master Yourself
"Knowing others is intelligence; knowing yourself is true wisdom. Mastering others is strength; mastering yourself is true power." – Lao Tzu
Quote #11: Be Optimistic
"A pessimist sees the difficulty in every opportunity; an optimist sees the opportunity in every difficulty." -Winston Churchill.
Quote #12: Don't Quit
"A quitter never wins and a winner never quits."  – Napoleon Hill
Quote #13: Smile!
"A smile is a curve that set everything straight." – Phyllis Diller
Quote #14: Have Faith 
"Faith is taking the first step even when you don't see the whole staircase." – Martin Luther King, Jr.
Quote #15: Always Care for People Around You
"People don't care how much you know until they know how much you care."- Mike McKnight
Quote #16: Make a Life
"Don't get so busy making a living that you forget to make a life." ― Dolly Parton.
Quote #17: You Are Precious 
"To the world you may be one person, but to one person you may be the world." – Bill Wilson
Quote #18: Be Cheerful
"Cheerfulness is what greases the axles of the world. Don't go through life creaking." -H.W. Byles
Quote #19: Appreciate What You Have Now
"Happiness is not having what you want, but wanting what you have." – Hyman Judah Schachtel
Quote #20: You Are In Charge of Your Life
"I am the master of my fate; I am the captain of my soul." – William Ernest Henley
Quote #21: Be Open-Minded
"Minds are like parachutes; they work best when open." – Thomas Dewar
Quote #22: There is No Shortcut to Success
"The elevator to success is out of order. You'll have to use the stairs… one step at a time." – Joe Girard
Quote #23: Don't Worry, Be Happy
"Worrying is like a rocking chair. It gives you something to do but it doesn't get you anywhere." – Van Wilder
Quote #24: Enjoy Your Work
"To find joy in work is to discover the fountain of youth." – Pearl S. Buck
Quote #25: Live Purposefully 
"The purpose of life is a life of purpose. " – Robert Byrne
Quote #26: Be True, Be Authentic
"Be who you are and say what you feel, because those who mind don't matter, and those who matter don't mind." – Bernard M. Baruch
Quote #27: Persevere No Matter What
"Success is not final, failure is not fatal: it is the courage to continue that counts."-Winston Churchill.
Quote #28: Life is a Miracle
"There are only two ways to live your life: One is as though nothing is a miracle. The other is as though everything is a miracle." – Albert Einstein
Quote #29: Doors of Opportunities are Everywhere
"When one door of happiness closes, another opens; but often we look so long at the closed door that we do not see the one which has been opened for us." – Helen Keller
Quote #30: Kindness is Love
"Kindness in words creates confidence. Kindness in thinking creates profoundness. Kindness in giving creates love." – Lao Tzu
Image Credit: Pixabay 
Do you have any other poetic quotes in mind? Share with us in the comments!
If you love this post, share with your friends and family!
Sponsored: Gifts of Arts by Vincent V.Gogh