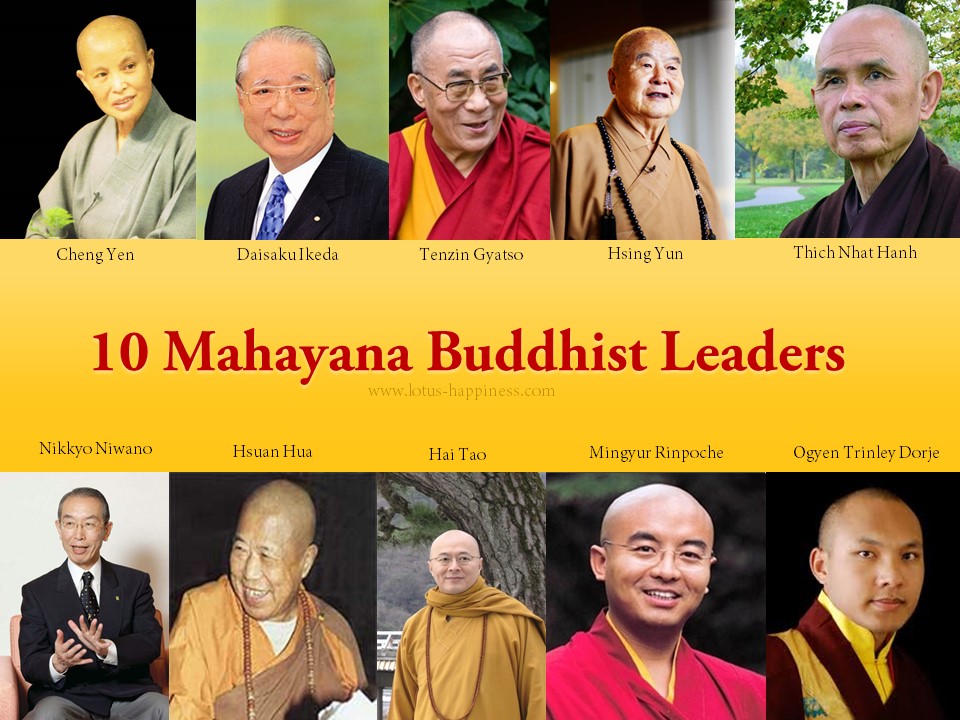 Is there a Buddhist leader who has inspired you tremendously in your Buddhist practice?
Everyone of us has a Buddhist leader whom we look upon as a role model and an inspiration in our spiritual devotion and personal cultivation. We benefit from their dedication and indefatigable efforts to make Buddhism accessible for us.
There are innumerable Buddhist leaders who are propagating Buddhism. Today, we are focusing on the leaders who are spreading Buddhism of the predominantly of the Mahayana-Vajrayana traditions.
Here are the 10 Buddhist leaders whose reputation, contribution, and presence are palpable in the Asia Pacific region and beyond:
1. Master Cheng Yen
 "There are three poisons in life: greed, anger, and ignorance. Giving cures greed. Compassion cures anger. Wisdom cures ignorance." – Master Cheng Yen
Master Cheng Yen is a Taiwanese Buddhist nun who founded the Buddhist Compassion Relief Tzu Chi Foundation, commonly known as Tzu Chi. The foundation focuses on international disaster relief, environmental protection, bone marrow donation, medicine, education, culture, and community volunteering.
She embodies the bodhisattva spirit of salvation through various humanitarian efforts. Her motto is "Following and applying the teachings of Buddha in our daily lives and transforming ourselves into living Bodhisattvas."
She has received over 20 awards and honorary doctorate in recognition of her dedication and commitment of humanitarian service. The most recent award she received is the Rotary International Award, in which she is the first Chinese recipient to have received such honor.
2. Dr. Daisaku Ikeda
"People who have strong faith are fearless; they can overcome anything. There is no obstacle or adversity that they cannot surmount. In the very depths of their lives, no matter what happens, they lead lives of the greatest of all joy." – Daisaku Ikeda
Dr. Daisaku Ikeda is a Japanese Buddhist leader who is a peacebuilder, author and educator. He is the President of Soka Gakkai International and founder of numerous cultural, educational and peace research institutions around the world such as the Soka University of America and Ikeda Center for Peace, Learning & Dialogue in Harvard University.
A champion for world peace through dialogue, Dr. Ikeda has conducted numerous dialogues with a wide range of individuals from around the world – Arnold Toynbee, Mikhail Gorbachev, Linus Pauling, Aurelio Peccei etc.
Dr. Ikeda has received more than 300 honorary doctorates and professorships from numerous universities around in the world. In both 2015 and 2016, the director of the Peace Research Institute Oslo announced that Daisaku Ikeda had been nominated for the Nobel Peace Prize. 
Members of Soka Gakkai practice the Lotus Sutra by chanting its title – Nam Myoho Renge Kyo – which means "I devote myself to the Lotus Sutra of the Wonderful Law."
3. His Holiness 17th Gyalwang Karmapa Ogyen Trinley Dorje
"It's very important not just to expect something from our external teachers, or the external Buddha. Maybe we also need to understand that we have an inner teacher, an inner Buddha." – 17th Gyalwang Karmapa
Ogyen Trinley Dorje is the reincarnation of 16th Karmapa of the Kagyu lineage. Born in 1985 (age 31 as of 2016), he is one of the few Buddhist youth masters to propagate Tibetan Buddhism.
Ogyen Trinley Dorje was installed at Tsurphu Monastery, traditional seat of the Karmapa in Tibet, and he was recognized by both the 14th Dalai Lama and the official sanction of the State Council of the People's Republic of China. By declaring him to be a "living Buddha", People's Republic of China has officially confirmed a tulku for the first time.
Currently, he is travelling around the world to deliver Dharma teachings according to a planned schedule.
4. Yongey Mingyur Rinpoche
"Meditation is really a process of nonjudgmental awareness." – Mingyur Rinpoche
Mingyur Rinpoche is a Nepalese teacher and master of Karma Kagyu and Nyingma lineages of Tibetan Buddhism. A jovial person by nature, he has a distinctive ability to preach Buddhism in a light-hearted manner that is as engaging as it is captivating. This makes often profound and complex Buddhist concepts easy to digest and grasp.
Apart from that, he also teaches mindfulness meditation and manages a global network of Buddhist meditation centers known as Tergar Meditation Community.
5. The late President Nikkyo Niwano
 "Attain a state of mind in which you can see every encounter as a cause of happiness. When you embrace this approach, you become aware of happiness and can acquire true joy." -Nikkyo Niwano
The late  Mr. Nikkyo Niwano is the founder of Rissho Kosei-Kai, a lay Buddhist organization headquartered in Japan. Members of Rissho Kosei-Kai practice the Lotus Sutra by reciting excerpts from the Lotus Sutra.
A well-known figure in inter-faith dialogue and cooperation, he has dedicated his life establishing the World Conference on Religion and Peace (WCRP) and the Asian Conference on Religion and Peace (ACRP).
He received awards such as Templeton Foundation Prize for Progress in Religion in 1979 and Interfaith Medallion from the International Council of Christians and Jews in 1993. He was also made Knight Commander with the Silver Star of the Order of St. Gregory the Great by the Vatican.
6. His Holiness 14th Dalai Lama, Tenzin Gyatso
 "If you want others to be happy, practice compassion. If you want to be happy, practice compassion." – Dalai Lama 
The 14th Dalai Lama, Tenzin Gyatso, is the spiritual leader of Tibet of the Gelug ("Yellow Hat") in Tibetan Buddhism. He is considered to be the manifestations of Bodhisattva Avalokitesvara.
A prolific author, he has since published more than 30 books. In 1989, he received the Nobel Peace Prize. Throughout the years from 2000-2014, he has received more than 90 awards which include honorary doctorates and honorary citizenship.
He encourages the chanting of Om Mani Padme Hum, which means "jewel in the lotus". This mantra is associated with Bodhisattva Avalokitesvara.
7. Zen Master Thich Nhat Hanh
"You practice mindfulness, on the one hand, to be calm and peaceful. On the other hand, as you practice mindfulness and live a life of peace, you inspire hope for a future of peace." – Master Thich Nhat Hanh
Master Thich Nhat Hanh is a Vietnamese Buddhist monk, author, teacher and poet. Currently living at the Plum Village in France, he has been travelling around the world teaching mindfulness, giving meditation retreat and talks.
His key teaching is in cultivating mindfulness and living joyfully in the present moment as the only way to develop peace within. World peace begins from inner peace of every individual.
A peace activist, he advocates non-violence as a means to end conflicts. A graduate from Princeton University, he lectured in Princeton University and Columbia University in the 1960s.
He is also a prolific writer who has since published more than 100 books, 40 of which are written in English. His books are highly influential in the meditation movement in the European countries.
8. Venerable Master Hai Tao
Venerable Hai Tao assumes the leadership of the 47th Dharma-lineage of Tien-Tai sect. He is also the abbot of several temples in Taiwan such as Hong-Fa Buddhist Zen Monastery, Fa-Yhien Temple, etc.
He has been actively spreading the Dharma through involvement in various platforms such as talks, conferences, Buddhist foundations as well as voluntary organizations.
Currently, he is the chairman of Hai Tao Life Foundation.
9. The Late Venerable Master Hsuan Hua 
"Studying Buddhism is worth more than any amount of money you save up in the bank! In terms of your Dharma body and wisdom life, the Dharma is far more important than money. Don't take worldly wealth so seriously. When you study the Dharma, you amass a wealth of Dharma and meritorous virtue. So, don't look lightly upon this and act in a careless manner." – Late Ven. Master Hsuan Hua
The late Venerable Master Hsuan Hua is the Zen Buddhist monk who brought Chinese Buddhism to the United States in the 20th century. He founded several Buddhist monasteries and institutions in the United States: The Dharma Realm Buddhist Associations, City of Ten Thousand Buddhas, Dharma Realm Buddhist University as well as the Buddhist Text Translation Society.
10. Venerable Master Hsing Yun 
"To rely on the Dharma is to always rely on the truth.  We cannot rely on people because everyone has different perceptions and interpretations.  Any single teacher is subject to birth, aging, sickness, and death, but the Dharma has not changed since beginningless time.  So in seeking the Way, we must always rely on the Dharma itself and not on the people who teach it." – Master Hsing Yun
Master Hsing Yun is the founder of the Buddhist organization in Taiwan, Fo Guang Shan, which means "Buddha's Light Mountain", Shou Shan Buddhist College, Buddha's Light University, University of the West etc.
A proponent of the Humanistic Buddhism, he has been actively engaging in education and humanitarian activities in an effort to spread the Mahayana Buddhism for the peace and happiness of humanity.
Do you know if any other Mahayana Buddhist leaders who are not on the list, do share with us!