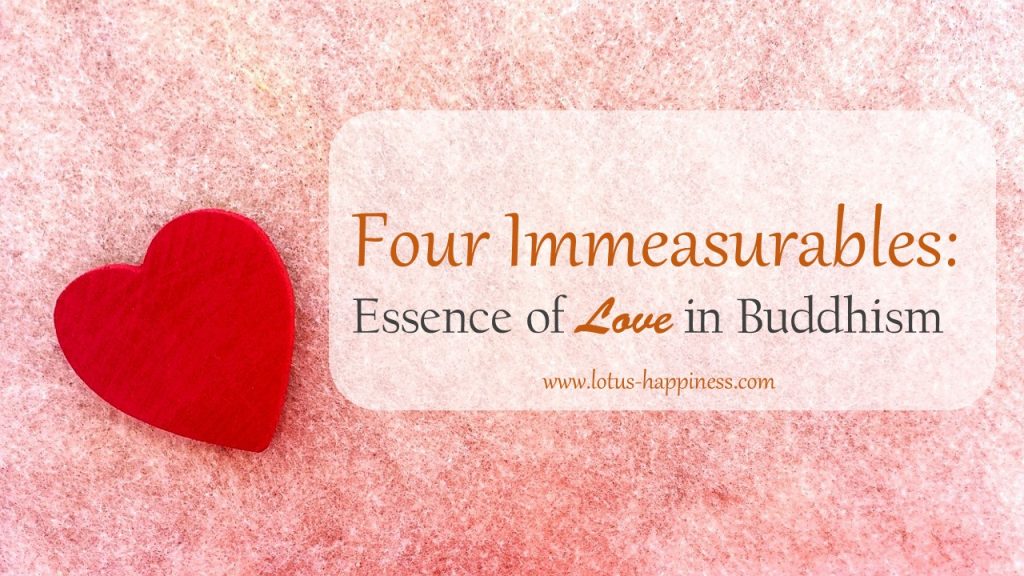 Four Immeasurables: Essence of Love in Buddhism
Have you wondered what are the ingredients of happiness in Buddhism?
To have a rewarding relationship with people, we need to cultivate the Four Immeasurables.
The Buddha taught the following to his son Rahula the Four Immeasurables:
"Rahula, practice loving-kindness to overcome anger. Loving kindness has the capacity to bring happiness to others without demanding anything in return.

Practice compassion to overcome cruelty. Compassion has the capacity to remove the suffering of others without expecting anything in return.

Practice sympathetic joy to overcome hatred. Sympathetic joy arises when one rejoices over the happiness of others and wishes others well-being and success.

Practice non-attachment to overcome prejudice. Non-attachment is the way of looking at all things openly and equally. This is because that is. Myself and others are not separate. Do not reject one thing only to chase after another.
I call these the Four Immeasurables. Practice them and you will become a refreshing source of vitality and happiness for others."

– Thich Nhat Hahn in "Old Path White Clouds" 
The Four Immeasurables (四无量心/四梵行)
The Four Immeasurables, also known as Brahmaviharas (literally means "the abodes of the Brahma") is one of the Buddha's teachings to cultivate the "Heart-ware".
What are the Four Immeasurables? They are:
Benevolence or Loving-Kindness
Compassion
Joy or Empathetic Joy
Non-attachment or Equanimity
Benevolence or Loving-kindness (Pali: Metta, Sanskrit: Maitri, Chinese: 慈)
Benevolence is an expression of love and kindness. It means willingness to extend a helping hand, a listening ear, and a shoulder to lean on for those in need of help. All these actions are done for the purpose of wanting others to be happy.
True love is unconditional; it takes tremendous amount of courage and acceptance to express love and kindness.
Benevolence and loving-kindness is devoid of attachment. It is not a selfish possession as in a relationship between men and women, husband and wife, parents and children. There is no expectation of return for the kindness rendered to another person. Everything is done for the happiness and welfare of others.
The spirit of kindness and benevolence is generosity. Giving is the essence of love. Whenever we are giving – be it a smile, a word of encouragement, our presence to be there for someone, a gift or souvenir etc – our loving-kindness radiates from our heart.
The nemesis of benevolence is ego, selfishness, anger.
The future Buddha, Maitreya Buddha, is a Buddha that embodies the spirit of benevolence and loving-kindness. The Sanskrit word "Maitri" means kindness and friendship.
"He will be the next Buddha

with the name Maitreya,

who will broadly save all living beings

in numbers beyond measure." (Lotus Sutra 1: 4.36)
Compassion (Pali/Sanskrit: Karuna, Chinese: 悲)
The spirit of compassion lies in alleviating and removing suffering. Empathy is also an expression of compassion. This is because by putting yourself in the shoes of others, you are able to vicariously empathize the pain experienced with people.
What is the difference between compassion and benevolence? While benevolence is giving something "desirable", compassion is uprooting something that is "undesirable".
The essence of the spirit of bodhisattva is compassion. This is because Buddhism is a teaching of eliminating suffering in 2 ways: first, ending the cycles of birth and death; second, attaining Buddhahood.
The nemesis of compassion is cruelty, hatred, and despotic.
Bodhisattva Avalokitesvara, or Guan Yin, is the embodiment of compassion. The divine salvation of Guan Yin stems from her boundless compassion for all living beings.
"O Infinite Intention! Bodhisattva Avalokitasvara possesses such mighty divine powers so as to bring benefits to many people. Hence, living beings should always keep him in mind." (Lotus Sutra 25: 1.10)
Joy (Pāli and Sanskrit: mudita, Chinese: 喜)
Joy, or empathetic joy, is a state of exuberance arising from a heart that celebrates the success and happiness of others.
Happiness is the art of gratitude and appreciation. We have the eyes to spot all kinds of beauty around us, be it people or the environment. This is a joy that stems from appreciation and thankfulness.
When we see the happiness and success of people, we feel happy for them. When we see luxuriant trees and blooming flowers in nature, we also experience an uplifting sense of buoyancy. This is what it means by Empathetic Joy.
The nemesis of Empathetic Joy is resentment, envy, jealousy, and hypocrisy.
In The Vows of Bodhisattva Universal Worthy Sutra, one of the ten vows practiced by a bodhisattva is "Rejoicing in the Merits of Others."
In the Lotus Sutra, those who experience spontaneous joy upon hearing the Buddha's teaching is able to attain Buddhahood and spread the Dharma widely.
The Buddha replied to Bodhisattva-Mahasattva Maitreya: "O Ajita! After the parinirvana of the Buddha, if there are monks and nuns, lay male disciples, and lay female disciples, as well as other wise people—be they old or young—who respond with spontaneous joy upon hearing the Lotus Sutra, they will be able to spread the joy of the Law to their parents, relatives, good friends, and acquaintances according to their levels of understanding after they have left the assembly to other places such as monasteries, secluded places, cities, streets, hamlets, or villages. Those who hear the Law from them will, in turn, respond with spontaneous joy and they will continue to share the teachings with others. In the same way, the rest of the others who hear the teachings will also, in turn, respond with spontaneous joy and share with yet many others until the fiftieth person." (Lotus Sutra 18: 1.2)
Non-Attachment or Equanimity (Pali: Upekkha, Sanskrit: Upeksa, Chinese: 舍)
Non-Attachment is relinquishment, or letting go, of discrimination to result in a sense of peace and equanimity.
People practice forgiveness because they want to let go of resentment, hurt, or grievances. Forgiveness is the antidote of attachment to the past.
Wise people are able to look beyond the mere notions of good and bad, right and wrong, to experience a sense of freedom. They know that nothing in the world is completely good or bad because it is always a shades of grey. Attachment to the discrimination between right and wrong, good and bad, results in delusions and suffering.
The nemesis of non-attachment is apathy and prejudice.
By cultivating detachment, letting go, and relinquishment, one will be able to understand the meaning of "Emptiness" as expounded by the Buddha in the Heart Sutra, Diamond Sutra, Vimalakirti Sutra, and the Threefold Lotus Sutra.
The Buddha replied: "O virtuous men! This single doctrine is known as the Immeasurable Meanings. If any bodhisattvas wish to practice and learn the Immeasurable Meanings, then they should observe and perceive that all realities are originally―from the beginning and continue to be―empty and tranquil in nature and aspect; there is neither large nor small, neither birth nor death, neither abiding nor moving, neither advancing nor retreating, just an empty space with no dualism.

Nevertheless, living beings make misleading judgment by differentiating between this or that, gain or loss, thereby giving rise to unsavory thoughts that result in a host of evil actions. Transmigrating within the six paths of existence, they have undergone numerous pains and bitter suffering without ever being able to escape for immeasurable millions of kalpas."

(Immeasurable Meanings Sutra 2: 1.6 – 1.7)