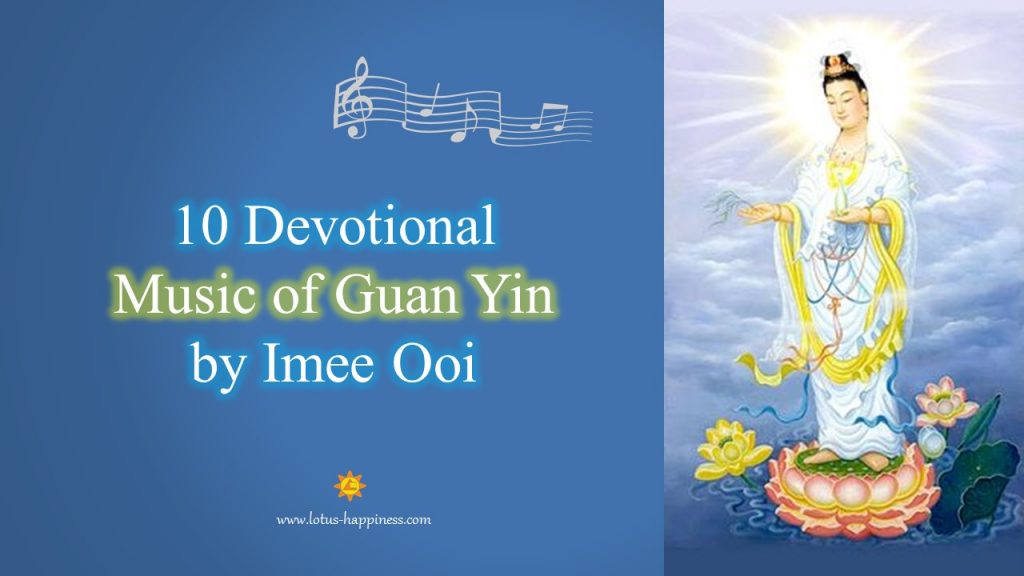 10 Devotional Music of Guan Yin by Imee Ooi 
Imee Ooi (Huang Hui Yin) is a Chinese-Malaysian music composer, record producer, and singer. She specializes in the composition and arrangement of music for classical Buddhist chant, mantra, and dharani in Sanskrit, Pali, Tibetan, and Mandarin. In 1997 she founded a record label, I.M.M. Musicworks, to publish her music. She has released more than 40 albums.
Imee also composed and directed three highly acclaimed stage musicals: Siddhartha, Above Full Moon, and Princess Wen Cheng (aka Jewel of Tibet).
Bodhisattva Avalokitesvara (Guan Yin / Kwan Yin / Chenrezig) is the most renowned bodhisattva of compassion that appears in the Lotus Sutra. This bodhisattva vows to use her divine power to rescue anyone who calls upon her name.
The following is a list of wonderful Guan Yin-related music composed by Imee Ooi:
#1 – Om Mani Padme Hum | Amazon
#2 – Kuan Yin Mantra | Amazon
#3 – Heart Sutra (Chinese) | Amazon
#4 – Heart Sutra (Sanskrit) | Amazon
#5 – Great Compassion Mantra (Chinese) | Amazon
#6 – Great Compassion Mantra – Nilakantha Dharani (Sanskrit) | Amazon
#7 – Heart Sutra (Japanese Version) | Amazon
#8 – Heart Sutra (Cantonese) | Amazon
#9 – The Divine Mantra of Bodhisattva Avalokitesvara (Sanskrit) | Amazon
#10 – Universal Gateway (Pu Men Pin) | Amazon
Listen in the playlist in Lotus Happiness Youtube