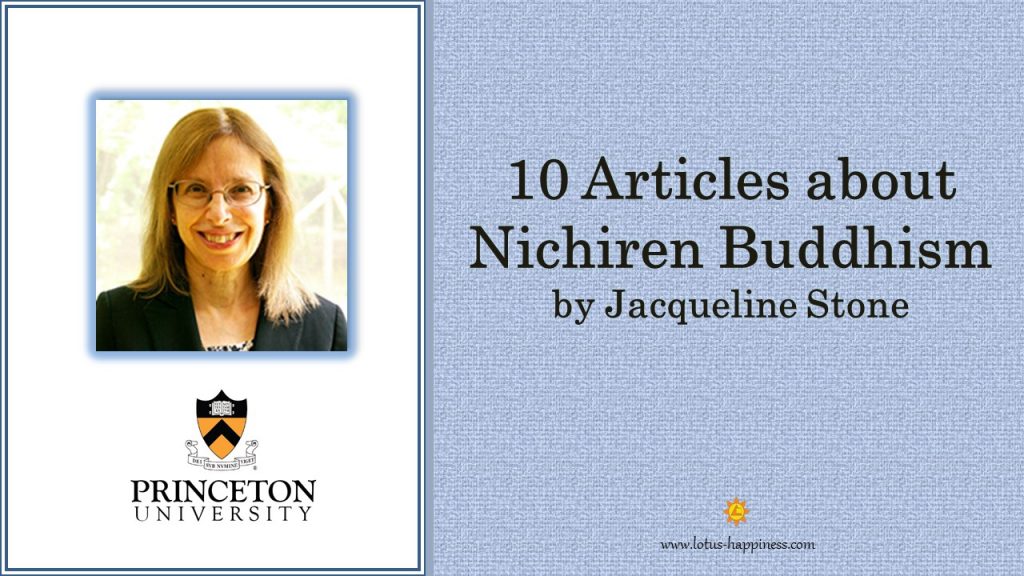 10 Articles about Nichiren Buddhism by Jacqueline Stone
Jacqueline I. Stone received her Ph.D. from the University of California, Los Angeles, in East Asian Languages and Cultures, with a focus in Buddhist Studies. She is now Professor of Japanese Religions in the Religion Department of Princeton University. Her major research field is Japanese Buddhism. Her research interests include death in Buddhism; Buddhist eschatology; Buddhism and Japanese identity formation in the medieval and modern periods; and traditions related to the Lotus Sūtra, especially Tendai and Nichiren Buddhism.
She is the author of Original Enlightenment and the Transformation of Medieval Japanese Buddhism, which received a 2001 American Academy of Religion Award for Excellence in the Study of Religion. She has co-edited The Buddhist Dead: Practices, Discourses, Representations (with Bryan J. Cuevas, 2007), Readings of the Lotus Sutra (with Stephen F. Teiser, 2009), and other volumes of collected essays.
#1
"Rebuking the Enemies of the Lotus: Nichirenist Exclusivism in Historical Perspective" (1994)
#2
"Chanting the August Title of the Lotus Sutra: Daimoku Practices in Classical and Medieval Japan" (1998)
#3
"Biographical Studies of Nichiren" (1999)
#4
"Placing Nichiren in the Big Picture: Some Ongoing Issues in Scholarship" (1999)
#5
"The Moment of Death in Nichiren's Thought" (2003)
#6
"Nichiren's Activist Heirs: Soka Gakkai, Rissho Koseikai, Nipponzan Myohoji" (2003)
#7
"Giving One's Life for the Lotus Sutra in Nichiren's Thought" (2007)
#8
"The Sin of Slandering the True Dharma in Nichiren's Thought" (2012)
#9
"A Votary of the Lotus Sutra Will Meet Ordeals: The Role of Suffering in Nichiren's Thought" (2014)
#10
"Nenbutsu Leads to the Avici Hell: Nichiren's Critique of the Pure Land Teachings" (2013)
Source: Articles from Princeton