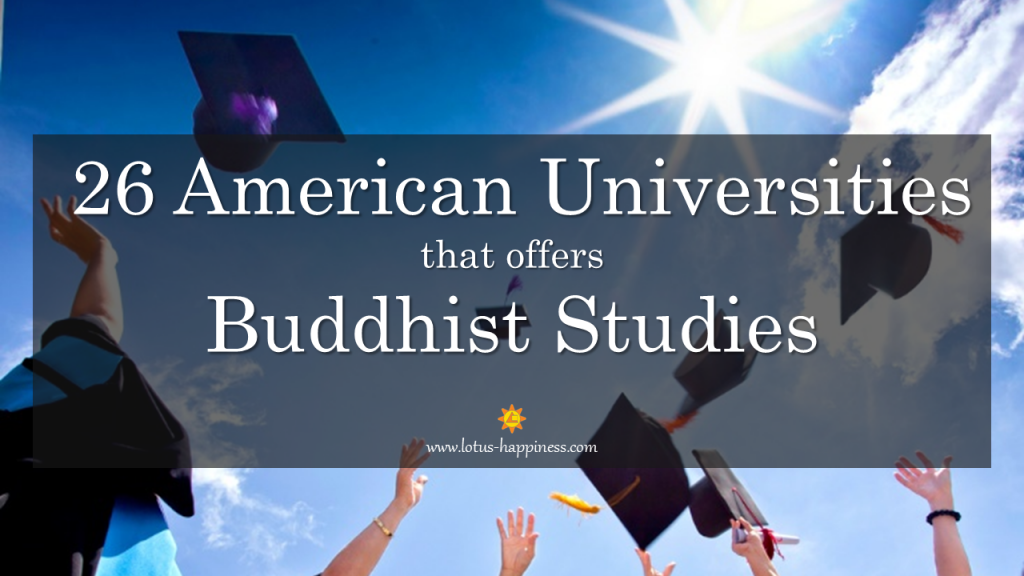 26 American Universities that Offers Buddhist Studies 
Having an aspiration to gain mastery in Buddhism?
Interested to pursue a degree in Buddhist Studies in the United States of America?
There is a sizable number of universities all around the world that offers undergraduate to postgraduate in Buddhist studies with a focus in various traditions of Buddhism. However, most of the creme de la creme of undergraduate and postgraduate studies are in the USA.
Extracted from "Where to Study?" from Tricycle, here is an overview of the list of 26 universities in USA that offer Buddhist studies:
#1 – CALIFORNIA INSTITUTE OF INTEGRAL STUDIES – http://www.ciis.edu/
#2 – GRADUATE THEOLOGICAL UNION – http://gtu.edu/home
#3 – UNIVERSITY OF THE WEST – http://www.uwest.edu/site/
#4 – INSTITUTE OF BUDDHIST STUDIES – http://www.shin-ibs.edu/
#5 – NAROPA UNIVERSITY – http://www.naropa.edu/
#6 – MAITRIPA COLLEGE – http://maitripa.org/
#7 – HARVARD UNIVERSITY – http://studyofreligion.fas.harvard.edu/
#8 – INDIANA UNIVERSITY – http://indiana.edu/~relstud/
#9 – UNIVERSITY OF CHICAGO – https://divinity.uchicago.edu/
#10 – UNIVERSITY OF HAWAII AT MANOA – http://www.hawaii.edu/religion/
#11 – UNIVERSITY OF MICHIGAN – http://lsa.umich.edu/asian/
#12 – UNIVERSITY OF VIRGINIA – http://religiousstudies.virginia.edu/
#13 – PRINCETON UNIVERSITY – http://religion.princeton.edu/
#14 – STANFORD UNIVERSITY – http://religiousstudies.stanford.edu/
#15 – UNIVERSITY OF ARIZONA – http://eas.arizona.edu/
#16 – UNIVERSITY OF CALIFORNIA AT LOS ANGELES – http://www.alc.ucla.edu/
#17 – UNIVERSITY OF CALIFORNIA AT SANTA BARBARA – http://www.religion.ucsb.edu/
#18 – UNIVERSITY OF PENNSYLVANIA – http://www.sas.upenn.edu/religious_studies/
#19 – YALE UNIVERSITY – http://religiousstudies.yale.edu/
#20 – CORNELL UNIVERSITY – http://lrc.cornell.edu/asian/graduate/ALRC/ALRC
#21 – UNIVERSITY OF WASHINGTON – https://asian.washington.edu/
#22 – COLUMBIA UNIVERSITY – http://religion.columbia.edu/
#23 – UNIVERSITY OF CALIFORNIA AT BERKELEY – http://ealc.berkeley.edu/
#24 – UNIVERSITY OF TEXAS AT AUSTIN – http://www.utexas.edu/cola/asianstudies/
#25 – RUTGERS UNIVERSITY – http://religion.rutgers.edu/graduate/
#26 – FLORIDA STATE UNIVERSITY – http://religion.fsu.edu/
---
To find out more about the details, you may read the article written by Duncan R Williams as appeared in Tricycle:
Where to Study?
A comprehensive list of Buddhist studies programs in the United States
By
Duncan Ryuken Williams
As interest in Buddhism continues to grow in America, many people are choosing to deepen their understanding of this tradition through graduate level study. If you are contemplating this route, one of the first things to examine is your motivation for pursuing an advanced degree in this field. Is it to complement a Buddhist practice? Is it to build a career in academia? Most graduate programs in Buddhist studies do not serve as a substitute for the faith in, and the practice of, Buddhism. Rather, they approach Buddhism from analytical vantage points: from history, sociology, philology, philosophy, religious studies, and cultural studies.
Nevertheless, there are a number of degree programs that encourage or support Buddhist practice and scholarship among students. These "practitioner-friendly" programs generally offer one of three things: the ability to pursue a degree in the context of Buddhist priestly training, courses in the practice of Buddhism that complement academic study, or an emphasis on the study of Buddhism from a normative point of view. Keep in mind, though, that if you're interested in pursuing a career in academia, the institutions that offer these practice-integrated programs  are often not accorded the same status as secular universities.
At most universities, faculty members in Buddhist studies rend to be far fewer in number than their Christian or Jewish counterparts. As a result, very few programs can be considered comprehensive: most have a strength in a particular geographic/cultural area (South Asia, Tibet, East Asia), a particular tradition (Ch'an/Zen, Theravada, Tibetan), or a particular approach (philological, historical, apologetic). While a comprehensive program may be optimal, many graduate students have also prospered in departments with a strength in one area of specialization. In such smaller contexts, working closely with a faculty member whose interests coincide with your own may compensate for the more limited scope of the program.
Most faculty in Buddhist studies are housed in either a religious studies or an area studies program (East Asian, South Asian studies). Religious studies departments commonly require coursework and exams in other religious traditions as well as familiarity with the theoretical literature of the study of religion in general. In contrast, area studies programs place greater emphasis on the study of Asian languages (Pali, Sanskrit, Chinese, Japanese, Tibetan) and the study of Buddhism in its various historical and cultural contexts.
The following Buddhist studies programs are divided into several categories designed to help you decide which schools may be most appropriate for your interests and goals. Professors whose names appear in brackets are not specialists in the study of Buddhism per se, but because their expertise is in subject matter closely related to Buddhism they have taught or directed graduate students in the past.
---
Section 1 – Practitioner-friendly Institutions* 
#1 – CALIFORNIA INSTITUTE OF INTEGRAL STUDIES
1453 Mission Street
San Francisco, CA 94109
(415) 575-6100
http://www.ciis.edu/
Degrees Offered
M.A. in Asian Philosophies and Cultures
M.A. in East-West Psychology
M.A. in Ecology, Spirituality, and Religion
M.A. in Philosophy Cosmology and Consciousness
PhD in Asian Philosophies and Cultures
PhD in East-West Psychology
Faculty
Steven Goodman (Tibetan Buddhism)
Yi Wu (Chinese Religions and Chinese Buddhism)
#2 – GRADUATE THEOLOGICAL UNION
2400 Ridge Road
Berkeley, CA 94709
(510) 649-2400
http://gtu.edu/home
Degrees Offered
M.A. in Buddhist Studies
PhD in Buddhist Studies
#3 – UNIVERSITY OF THE WEST
1409 Walnut Grove Avenue
Rosemead, CA 80302-9926
(626) 571-8811
http://www.uwest.edu/site/
Degrees Offered
M.A. in Psychology (Concentration in Buddhist Psychology)
M.A. in Religious Studies (Concentration in Comparative Religions or Buddhist Studies)
M.Div. in Buddhist Chaplaincy
PhD in Religious Studies (Concentration in Comparative Religions or Buddhist Studies)
Faculty
Francis Cook (East Asian Buddhism)
Wang Yao (Tibetan Buddhism)
#4 – INSTITUTE OF BUDDHIST STUDIES
2140 Durant Avenue
Berkeley, CA 94704
(510) 809-1444
http://www.shin-ibs.edu/
Degrees Offered
Certificate in Buddhism and Contemporary Psychology
Certificate in Buddhist Chaplaincy
Certificate in Theravada Buddhist Studies
M.A. in Buddhist Studies (with Graduate Theological Union)
M.Div. in Buddhist Studies
Faculty
Dennis Hirota (Japanese Buddhism)
Daijaku Kinst (Soto Zen Buddhism, Buddhist Chaplaincy)
Richard Payne (Esoteric Buddhism)
Kenneth Tanaka (Chinese Buddhism)
#5 – NAROPA UNIVERSITY
2130 Arapahoe Avenue
Boulder, CO  80302-9926
(303) 444-0202
http://www.naropa.edu/
Degrees Offered
M.A. in Religious Studies
M.A. in Religious Studies with Sanskrit and/or Tibetan Language
M.A. in Contemplative Psychotherapy & Buddhist Psychology
M.A. in Contemplative Education
M.Div. in Buddhist Studies
Faculty
Gaylon Ferguson (Buddhist Studies)
Archarya Lama Tenpa Gyaltsen (Tibetan Buddhism)
Amelia Hall (Tibetan and Himalayan Buddhism)
Sarah Harding (Tibetan Buddhism)
Joanna Macy (Buddhism and Science)
Judith Simmer-Brown (Indo­-Tibetan/American)
Karen Kissel Wegela (Buddhist Psychology)
Elaine Yuen (Tibetan Buddhism)
#6 – MAITRIPA COLLEGE
1119 SE Market Street
Portland, Oregon 97214
(503) 235-2477
http://maitripa.org/
Degrees Offered
M.A. in Buddhist Studies
M.Div. in Buddhist Studies
Faculty
Leigh Miller (Tibetan Buddhism)
Dan Rubin (Buddhism and Psychology)
---
Section 2 – Most Comprehensive Programs
#7 – HARVARD UNIVERSITY
Committee on the Study of Religion
Barker Center
Cambridge, MA 02138
(617) 495-5781
http://studyofreligion.fas.harvard.edu/
Degrees Offered
M.Div. in Buddhist Studies (Harvard Divinity School)
M.T.S. in Buddhist Studies (Harvard Divinity School)
Ph.D. in Religion (Concentrations in Buddhist Studies, East Asian Religions, and South Asian Religions)
Faculty
Ryuichi Abé (Japanese Buddhism)
Charles Hallisey (South and Southeast Asian/Theravada)
Janet Gyatso (Tibetan and South Asian Buddhism)
Anne Monius (South Asian religions)
Parimal Patil (South Asian Philosophies and Religions)
James Robson (Chinese Buddhism)
Leonard van der Kuijp (Indo­-Tibetan History and Literature)
#8 – INDIANA UNIVERSITY
Department of Religious Studies
Sycamore Hall, Room 230
Bloomington, IN 47405
(812) 855-3531
http://indiana.edu/~relstud/
Degrees Offered
M.A. in Religious Studies
Ph.D. in Religious Studies (Concentrations in Buddhist Studies, Chinese Thought, South Asian Religion)
Faculty
Heather Blair (East Asian and Japanese Buddhism)
Michael Ing (Chinese Thought)
Rebecca Manring (South Asian Religions and Asian Languages and Literature)
Richard Nance (Indo-Tibetan Buddhism)
#9 – UNIVERSITY OF CHICAGO
The Divinity School
1025 East 58th Street
Chicago, IL  60637
(312) 702-8200
https://divinity.uchicago.edu/
Degrees Offered
M.A. in Religious Studies
Ph.D. in Religious Studies
Faculty
Daniel Arnold (South Asian Languages and Civilizations)
Steven Collins (Theravada Buddhism)
Paul Copp (Chinese Religion and Thought, East Asian Languages and Civilizations)
Mathew Kapstein (Tibetan Buddhism)
James Ketelaar (East Asian Languages and Civilization)
#10 – UNIVERSITY OF HAWAII AT MANOA
Department of Religion
Sakamaki Hall A311
2530 Dole Street
Honolulu, HI  96822
(808) 956-8299
http://www.hawaii.edu/religion/
Degree Offered
M.A. in Religion
Faculty
Helen Baroni (Japanese Buddhism and Buddhism in America)
Ramdas Lamb (Indian Religions)
Michael Mohr (Japanese Religions and East Asian Buddhism)
Lee Siegel (Indian Religions)
#11 – UNIVERSITY OF MICHIGAN
Department of Asian Language and Culture
Suite 6111
202 South Thayer Street
Ann Arbor, MI 48104
http://lsa.umich.edu/asian/
Degrees Offered
PhD in Asian Languages and Cultures (Concentration in Buddhist Studies)
Faculty
Juhn Ahn (East Asian Buddhism)
Benjamin Brose (Chinese Buddhism)
Donald Lopez (Tibetan Buddhism)
#12 – UNIVERSITY OF VIRGINIA
Department of Religious Studies
323 Gibson Hall
1540 Jefferson Park Avenue
PO Box 400126
Charlottesville, VA 22904
(434) 924-6706
http://religiousstudies.virginia.edu/
Degrees Offered
M.A. in Religious Studies
PhD in Religious Studies (Concentrations of East Asian Buddhism, Indian-Tibetan or Chinese-Tibetan Buddhism, and Theravada Buddhism within History of Religions)
Faculty
John Campbell (South Asian and Himalayan Religions)
David Germano (Tibetan Buddhism)
Sonam Kachru (Buddhist Philosophy and Religion in South Asia)
John Nemec (South Asian Religions)
Kurtis Schaeffer (Indian and Tibetan Buddhism)
---
Section 3 – Institutions with Strength in East Asian Buddhist Studies
#13 – PRINCETON UNIVERSITY
Department of Religion
1879 Hall
Princeton, NJ  08544
(609) 258-4520
http://religion.princeton.edu/
Degree Offered
PhD in Religion (Concentration in Asian Religions)
Faculty
Jonathan Gold (Indian and Tibetan Buddhism)
Jacqueline Stone (Japanese Buddhism)
Stephen Teiser (Chinese Buddhism)
#14 – STANFORD UNIVERSITY
Department of Religious Studies
450 Serra Mall
Building 70
Stanford, CA 94305-2165
(650) 723-2538
http://religiousstudies.stanford.edu/
Degree Offered
PhD in Religious Studies (Concentration in Buddhist Studies)
Faculty
Paul Harrison (Mahayana Buddhist History and Literature)
John Kieschnick (Chinese Buddhism)
Mark Lewis (Chinese Religions)
#15 – UNIVERSITY OF ARIZONA
East Asian Studies Department
102 Learning Services Building
1512 E First Street
Tucson, AZ 85721
(520) 621-7505
http://eas.arizona.edu/
Degrees Offered
M.A. in Chinese Studies
M.A. in East Asian Studies
M.A. in Japanese Studies
PhD in Chinese Studies
PhD in Japanese Studies
Faculty
Alison Jameson (East Asian Buddhism)
Takashi Miuri (East Asian Buddhism)
Jiang Wu (Chinese Buddhism)
#16 – UNIVERSITY OF CALIFORNIA AT LOS ANGELES
Department of Asian Languages and Cultures
290 Royce Hall
Box 951540
Los Angeles, CA 90095-1540
(310) 206-8235
http://www.alc.ucla.edu/
Degree Offered
PhD in Asian Languages and Cultures (Concentration in Buddhist Studies)
Faculty
William Bodiford (Japanese Buddhism)
Robert Buswell (Chinese and Korean Buddhism)
Natasha Heller (Chinese Religions and Chinese Buddhism)
Stephanie Jamison (Asian Religions)
Gregory Schopen (South Asian Religions and South Asian Buddhism)
#17 – UNIVERSITY OF CALIFORNIA AT SANTA BARBARA
Department of Religious Studies
Mail Code 3130
University of California
Santa Barbara, CA 93106
(805) 893-3578
http://www.religion.ucsb.edu/
Degree Offered
PhD in Religious Studies (Concentrations in Buddhist Studies, East Asian Religions, and South Asian Religions)
Faculty
José Cabezón (Tibetan Buddhism)
Barbara Holdrege (South Asian Religions)
Dominic Steavu-Balint (Chinese Religions and Chinese Buddhism)
David White (South Asian Religions)
Mayfair Yang (East Asian Religions)
#18 – UNIVERSITY OF PENNSYLVANIA
Department of Religious Studies
Box 36, College Hall
Philadelphia, PA 19104
(215) 898-7453
http://www.sas.upenn.edu/religious_studies/
Degree Offered
PhD in Religious Studies (Concentrations in Asian Religions and Buddhist Studies)
Faculty
Daud Ali (South Asian Religions)
Paul Goldin (Chinese Thought)
Victor Mair (Chinese Buddhism)
Justin McDaniel (Indian and Southeast Asian Buddhism)
Deven Patel (Indian Philosophy and Religions)
#19 – YALE UNIVERSITY
Department of Religious Studies
Box 208287
New Haven, CT 06520
(203) 432-0828
http://religiousstudies.yale.edu/
Degree Offered
PhD in Religion (Concentration in Asian Religions)
Faculty
Phyllis Granoff (Indian Buddhism)
Eric Greene (Chinese Buddhism)
Andrew Quintman (Himalayan and Tibetan Buddhism)
Stanley Weinstein (Chinese and Japanese Buddhism)
#20 – CORNELL UNIVERSITY
Department of Asian Studies
350 Rockefeller Hall
Cornell University
Ithaca, NY 14853
(607) 255-5095
http://lrc.cornell.edu/asian/graduate/ALRC/ALRC
Degrees Offered
M.A. in Asian Studies
PhD in Asian Literature, Religion, and Culture
Faculty
Anne Blackburn (South Asian Religions and Buddhism)
Bronwen Bledsoe (Nepalese Buddhism and South Asian Religions)
Daniel Boucher (Chinese Religions, Chinese Buddhism, Indian Buddhism)
David Holmberg (Sherpa Buddhism)
Andrew Willford (Southeast Asian Religions)
---
Section 4 – Institutions with Strength in Indo-Tibetan Buddhist Studies
HARVARD UNIVERSITY
See listing under
Most Comprehensive Programs
UNIVERSITY OF MICHIGAN
See listing under
Most Comprehensive Programs
UNIVERSITY OF VIRGINIA
See listing under
Most Comprehensive Programs
#21 – UNIVERSITY OF WASHINGTON
Department of Asian Languages and Literature
225 Gowen Hall
Box 353521
Seattle, WA  98195-3521
(206) 543-4996
https://asian.washington.edu/
Degrees Offered
M.A. in Buddhist Studies
PhD in Buddhist Studies
Faculty
Collett Cox (Indian Buddhism)
Tim Lenz (Early Indian Buddhism)
Richard Salomon (Early Indian Buddhism)
---
Section 5 – Institutions with Strength in Southeast Asian Buddhist Studies
HARVARD UNIVERSITY
See listing under
Most Comprehensive Programs
UNIVERSITY OF CHICAGO
See listing under
Most Comprehensive Programs
---
Section 6 – Other Noteworthy Programs
#22 – COLUMBIA UNIVERSITY
Department of Religion
80 Claremont Avenue
Room 103 MC 9610
New York, NY 10027
(212) 851-4122
http://religion.columbia.edu/
Degrees Offered
M.A. in Religion
PhD in Religion (Concentrations in Buddhism, East Asian Religions, and South Asian Religions)
Faculty
Michael Como (East Asian Buddhism)
Bernard Faure (Japanese Buddhism)
Max Moerman (Japanese Religions)
Robert Thurman (Tibetan Buddhism)
Zhaohua Yang (Chinese Buddhism)
#23 – UNIVERSITY OF CALIFORNIA AT BERKELEY
Department of East Asian Languages and Cultures
3413 Dwinelle
Berkeley, CA 94720-2230
(510) 642-3480
http://ealc.berkeley.edu/
Degree Offered
PhD in East Asian Languages and Cultures
Faculty
Mark Blum (Japanese Buddhism)
Jacob Dalton (Tibetan and Southeast Asian Buddhism)
Robert Sharf (Chinese Buddhism)
#24 – UNIVERSITY OF TEXAS AT AUSTIN
Department of Asian Studies
The College of Liberal Arts
The University of Texas at Austin
116 Inner Campus Drive Stop G6000
Austin, TX  78712
(512) 471-5811
http://www.utexas.edu/cola/asianstudies/
Degrees Offered
M.A. in Asian Cultures and Languages
PhD in Asian Cultures and Languages
Faculty
Joel Brereton (Asian Religions)
Oliver Freiberger (Indian Buddhism)
Jishnu Shankar (South Asian Religions)
#25 – RUTGERS UNIVERSITY
Department of Religious Studies
School of Arts and Sciences
70 Lipman Drive
New Brunswick, NJ 08901-8525
(848) 932-9640
http://religion.rutgers.edu/graduate/
Degrees Offered
M.A. in Religious Studies (Concentration in Buddhist Studies)
Faculty
Edward Bryant (Indian Religions)
Tao Jiang (Chinese Buddhism)
Christian Lammerts (Theravada and Southeast Asian Buddhism)
#26 – FLORIDA STATE UNIVERSITY
Department of Religion
641 University Way
P.O. Box 3061520
The Florida State University
Tallahassee, FL 32306-1520
(850) 644-1020
http://religion.fsu.edu/
Degrees Offered
M.A. in Religious Studies (Concentration in Buddhist Studies—within History of Religions)
PhD in Religious Studies (Concentration in Buddhist Studies—within History of Religions)
Faculty
Kristina Buhrman (Japanese Religions and Esoteric Buddhism)
Bryan Cuevas (Tibetan and Himalayan Buddhism and Asian Religions)
Kathleen Erndl (South Asian Religions)
Jimmy Yu (Chinese Buddhism and Chinese Religions)
Adapted from Source: http://tricycle.org/magazine/where-to-study/