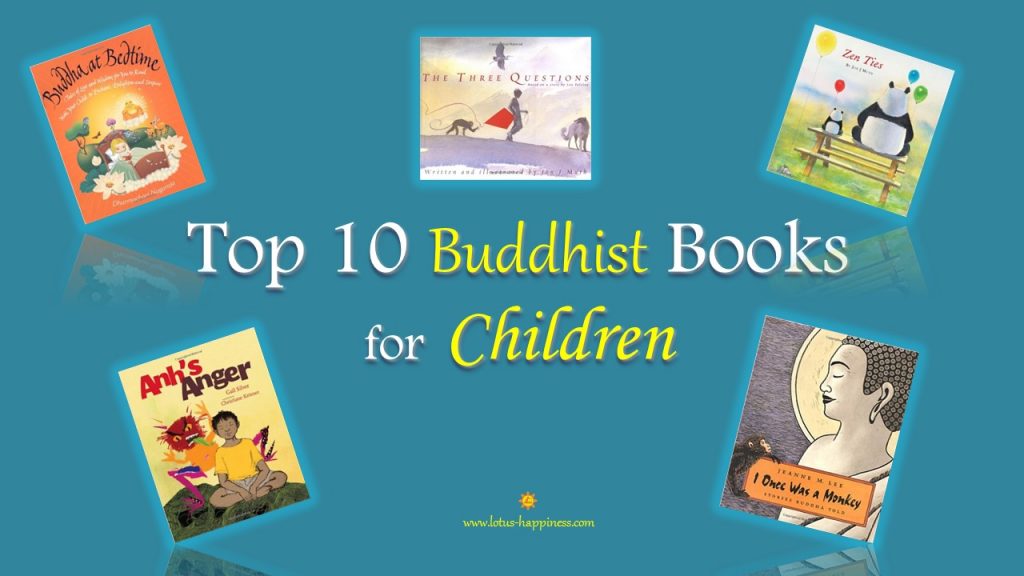 Top 10 Books on Buddhism for Children 
If you want some assistance in choosing the right book for your little one, this list contains the most popular, highest rated, best selling books. It also explains why exactly these books are so great.
Through these books kids will learn the basics of Buddhism. The beautiful colorful illustrations, and vivid metaphors will also teach kids about relaxation, happiness, breathing, and even meditation.
They have shown to be entertaining for kids and adults parents alike. Many aren't exclusively educative for kids, in fact they contain wonderful lessons for grown-ups as well. So beware, as a parent you might learn something new too.
#1 – Buddha at Bedtime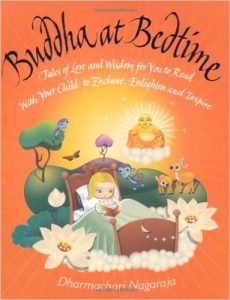 Buddhism made accessible and enjoyable for kids. This book is, in its kind, a jack of all trades. It includes 20, both short and long, stories about how to be wise and thoughtful. These stories are modern retellings of ancient Buddhist tales.
Buddha at Bedtime also offers an introduction to basic meditation and relaxation techniques, and demonstrates how to discuss the stories with the kids.
Furthermore there's an overview of The Four Noble Truths, The Eightfold Path, and The Five Precepts.
Recommended for kids of ages 4-10.
Buddha at Bedtime: Tales of Love and Wisdom for You to Read with Your Child to Enchant, Enlighten and Inspire by Dharmachari Nagaraja.
#2 – The Three Questions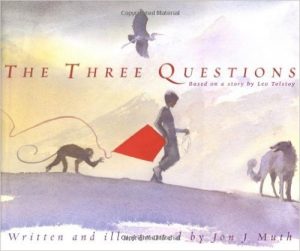 Based on the short story by Russian author Leo Tolstoy, The Three Questions is such a book that's highly valued by both kids and parents as well. This story concerns a king who wants to find the answers to what he considers the three most important questions in life.
Jon J Muth's The Three Questions teaches kids about compassion and living in the moment. The beautiful water-colored illustrations and the charming narrating style make this one of the best Buddhist books for kids.
Focused on kids aged 5 to 9 but readers from all ages might be able to satisfy their basic spiritual needs with it too.
This author's children's books have received numerous awards.
"The Three Questions is quietly life-changing" according to The New York Times Book Review. For curious parents, here's the praiseful NY Times article.
"The Three Questions" presents a world of moral consequence and choice, where questions of right and wrong must be puzzled out and where each person's actions really do make a difference. Young and old readers alike will take heart from that."
#3 – Peaceful Piggy Meditation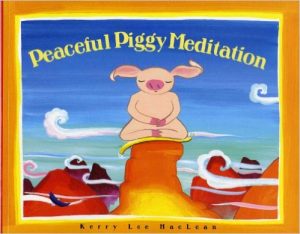 Simple meditation techniques for kids. Peaceful Piggy Meditation is a great book on itself but is also very useful as a tool to help restless, hyperactive kids find some inner peace.
This book deserves to be in the top 10 because it is one of the few children's books on Buddhism that explain and teach age-appropriate meditation techniques.
Despite it's core topic being meditation the book has a down-to-earth, modern narrative style (e.g. there are video-game playing pigs). Reading this book at bedtime might help create an oasis of calmness and relaxation in a kid's (and their parents) life.
"The book guides children through the reasons why meditation is necessary, and believe me when I say it is the best book on the market for doing so (I looked around extensively). Especially good is the "mind-in-a-jar" experiment at the end of the book which gives a concrete, hands-on demonstration of why meditation is necessary." Amazon review
Peaceful Piggy Meditation (Albert Whitman Prairie Books)
#4 – Zen Ties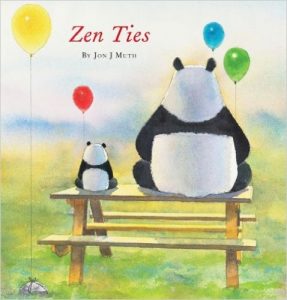 Probably the best kids book on Zen.
Zen Ties is another book of the hand of author and illustrator Jon Muth. In this particular book, Muth has done a great job in making Zen ideas and practices accessible to kids.
Themes of this book are; non-judgment, acceptance, friendship, forgiveness, connections, and community. This is another example of a book written for kids that is capable of teaching adults some valuable life lessons too.
"He lovingly distills the wisdom of ancient Zen teachings into the most touching and practical stories about the things we all come up against in life and frequently do not, despite our best intentions, know how to handle."
#5 – Each Breath a Smile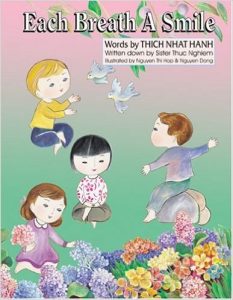 Great book on mindful breathing and a wonderful children book written by Sister Thuc Nghiem (Susan Swan), a grandmother, former teacher, and a nun in the tradition of Thich Nhat Hanh.
Each Breath a Smile shows kids how to relax and enjoy happiness through mindful breathing. This way they learn about Buddhism and how breathing the right way can help them experience calmness and joyfulness.
For preschool-aged kids.
Each Breath a Smile by Sister Susan. Plum Blossom Books.
#6 – I Once Was a Monkey: Stories Buddha Told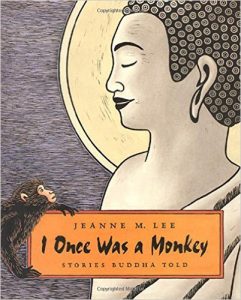 An introduction to Buddhism for kids.
Another example of a book that does a great job at offering kids an introduction to Buddhism. The key themes of this book are; trust, telling the truth, friendship and kindness
I Once Was a Monkey consists of short stories addressing universal values. These stories are based on so called jakatas.
Jakatas are tales that Buddha told. They are based on the experiences, and lessons that Buddha learned through his past lives as different animals. Buddha has been a monkey, dove, lion, jackal, and dove.
#7 – Anh's Anger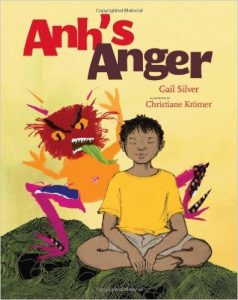 Anh's Anger is another kids Buddhism book by Gail Silver. His typical sensitive and caring approach make this book about anger a true gem.
It teaches both kids and parents about the value of acknowledging and resolving complex emotions such as anger.
"A really simple and yet profound story of a grandfather teaching a young boy how to sit with the difficult emotion of anger. A lesson not just for children but grown ups as well."
#8 – A Pebble for Your Pocket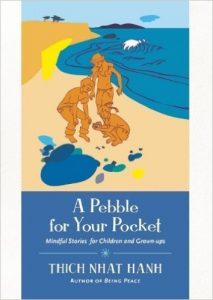 The author of this book is Thich Nhat Hanh , one of the most renowned Buddhist authors, Zen master, and Buddhist teacher. Core topics are living in the now, awareness, and spirituality in general.
A Pebble for Your Pocket isn't a picture book, so it's probably best suitable for 8-12 year olds and kids that read independently.
Further on this page more on Thich Nhat Hanh and Buddhism books for kids from his hand.
"A Pebble for Your Pocket is a gem from a true spiritual master."Parenting with Spirit magazine
#9 – Parrot and the Fig Tree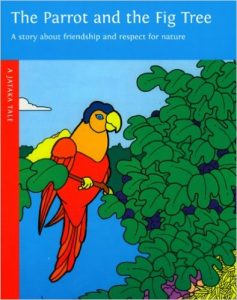 The Jataka Tales are a group of folk stories that originated in India, each of which relays an ethical teaching. Animals and magical beings, representing Buddha's former lives, play an essential role in these tales.
The tale of Parrot and the Fig Tree introduces seasons, the interdependency of all beings, and the value of loyalty.
A parrot refuses to abandon his good friend, a fig tree, even during winter when the tree has no figs, and eventually even when it is destroyed by a storm. For his loyalty to the tree, the parrot is rewarded by the god Shakra, with the rebirth of the tree.
This books also has coloring pages representing particular scenes from the story.
#10 – Magic of Patience (A Jataka Tale)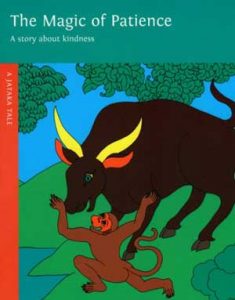 Buffalo persists in being kind and patient with the mischievous Monkey, despite all his annoying tricks.
Core topic of this book is how to show patience, instead of anger, and how this behavior can yield goodwill and harmony.
The Magic of Patience includes coloring pages.
Source: Critical Cactus 
New children Buddhist book to purchase:
Sidd and the Four Noble Truths