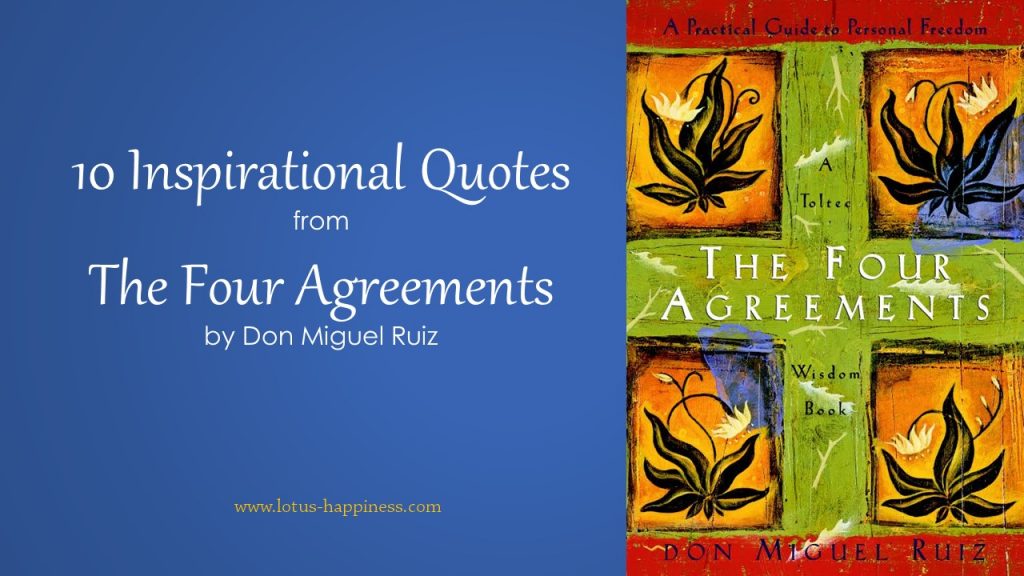 Don Miguel Ruiz is a Mexican author of the book – Four Agreements: A Practical Guide to Personal Freedom. Published in 1997, the book was a New York Times bestseller for more than seven years and 5.2 million copies were sold in the U.S. alone.
The book Four Agreements advocates personal freedom from beliefs and agreements that we have made with ourselves. To create abundance and happiness in our lives, Don Miguel Ruiz promulgates the Four Agreements as follows:
Be impeccable with your words
Don't take things personally
Don't make assumptions
Always do your best
Quote #1
"Real love is accepting other people the way they are without trying to change them. If we try to change them, this means we don't really like them." – Don Miguel Ruiz
Quote #2:
"It is always better to ask questions than to make an assumption, because assumptions set us up for suffering."  – Don Miguel Ruiz
Quote #3:
"Speak with integrity. Say only what you mean. Avoid using the word to speak against yourself or to gossip about others. Use the power of your word in the direction of truth and love." – Don Miguel Ruiz
Quote #4:
"When you don't do your best, you are denying yourself the right to be you." – Don Miguel Ruiz
Quote #5:
"Whatever life takes away from you, let it go. When you surrender and let go of the past, you allow yourself to be fully alive in the moment. Letting go of the past means you can enjoy the dream that is happening right now." – Don Miguel Ruiz
Quote #6:
"True freedom has to do with the human spirit — it is the freedom to be who we really are." – Don Miguel Ruiz
Quote #7:
"Your life is the manifestation of your dream; it is an art. You can change your life anytime if you aren't enjoying the dream." – Don Miguel Ruiz
Quote #8:
"Forgiveness is the only way to heal. We can choose to forgive because we feel compassion for ourselves." – Don Miguel Ruiz
Quote #9:
"Go inside and listen to your body, because your body will never lie to you. Your mind will play tricks, but the way you feel in your heart, in your guts, is the truth." – Don Miguel Ruiz
Quote #10:
"Don't take anything personally. Nothing others do is because of you. What others say and do is a projection of their own reality, their own dream. When you are immune to the opinions of others, you won't be the victim of needless suffering." – Don Miguel Ruiz
This book is a gem and it is worth reading over and over again. Don't forget to grab a copy for your own library collection.