10 Lessons from Steve Jobs' Commencement Address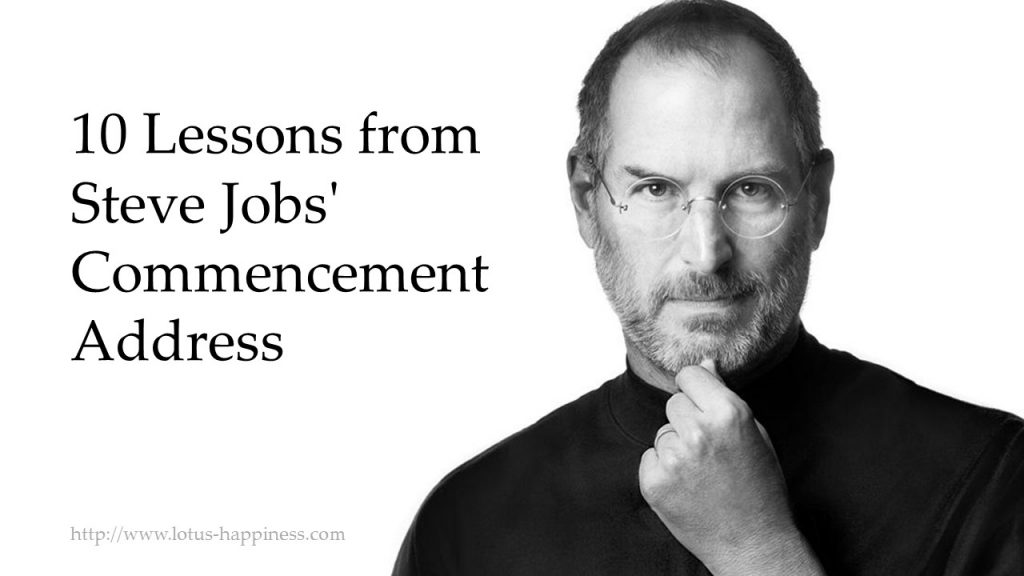 The late Steve Jobs is one of the most influential persons in the world. As the co-founder, Chairman, and CEO of Apple Inc., he revolutionized the way people use the computer and mobile phone. His life was not a bed of roses: he was an adopted child, he was booted out of his own company, and his health failed him when he was diagnosed with cancer. Here are the 10 life lessons from Steve Jobs extracted from his Stanford Commencement address: 
Lesson #1: Have Faith in the Law of Life 
Again, you can't connect the dots looking forward; you can only connect them looking backward. So you have to trust that the dots will somehow connect in your future. You have to trust in something — your gut, destiny, life, karma, whatever. This approach has never let me down, and it has made all the difference in my life. – Steve Jobs
Lesson #2: Love is What Keeps You Going 
I was a very public failure, and I even thought about running away from the valley. But something slowly began to dawn on me — I still loved what I did. The turn of events at Apple had not changed that one bit. I had been rejected, but I was still in love. And so I decided to start over. – Steve Jobs
Lesson #3: One Closed Door Leads to Many Open Doors 
I didn't see it then, but it turned out that getting fired from Apple was the best thing that could have ever happened to me. The heaviness of being successful was replaced by the lightness of being a beginner again, less sure about everything. It freed me to enter one of the most creative periods of my life. – Steve Jobs
Lesson #4: Keep Your Faith Alive 
Sometimes life hits you in the head with a brick. Don't lose faith.- Steve Jobs
Lesson #5: Love What You Do Is the Secret Recipe of Success 
Your work is going to fill a large part of your life, and the only way to be truly satisfied is to do what you believe is great work. And the only way to do great work is to love what you do. If you haven't found it yet, keep looking. Don't settle. As with all matters of the heart, you'll know when you find it.- Steve Jobs
Lesson #6: Cherish Each Day and Every Present Moment 
When I was 17, I read a quote that went something like: "If you live each day as if it was your last, someday you'll most certainly be right." It made an impression on me, and since then, for the past 33 years, I have looked in the mirror every morning and asked myself: "If today were the last day of my life, would I want to do what I am about to do today?" And whenever the answer has been "No" for too many days in a row, I know I need to change something.- Steve Jobs
Lesson #7: Follow Your Heart, You Have Nothing to Lose  
Remembering that you are going to die is the best way I know to avoid the trap of thinking you have something to lose. You are already naked. There is no reason not to follow your heart.- Steve Jobs
Lesson #8: Death Is The Beginning of Life 
Death is very likely the single best invention of Life. It is Life's change agent. It clears out the old to make way for the new.- Steve Jobs
Lesson #9: Be Your True Self, Listen to Your Inner Voice, and Follow Your Heart 
Your time is limited, so don't waste it living someone else's life. Don't be trapped by dogma — which is living with the results of other people's thinking. Don't let the noise of others' opinions drown out your own inner voice. And most important, have the courage to follow your heart and intuition. They somehow already know what you truly want to become. Everything else is secondary.- Steve Jobs
Lesson #10: Keep Learning, Be Adventurous, Just Do It. 
Stay Hungry. Stay Foolish.- Steve Jobs
---
Enjoying the post? Leave a comment or share with your friends!