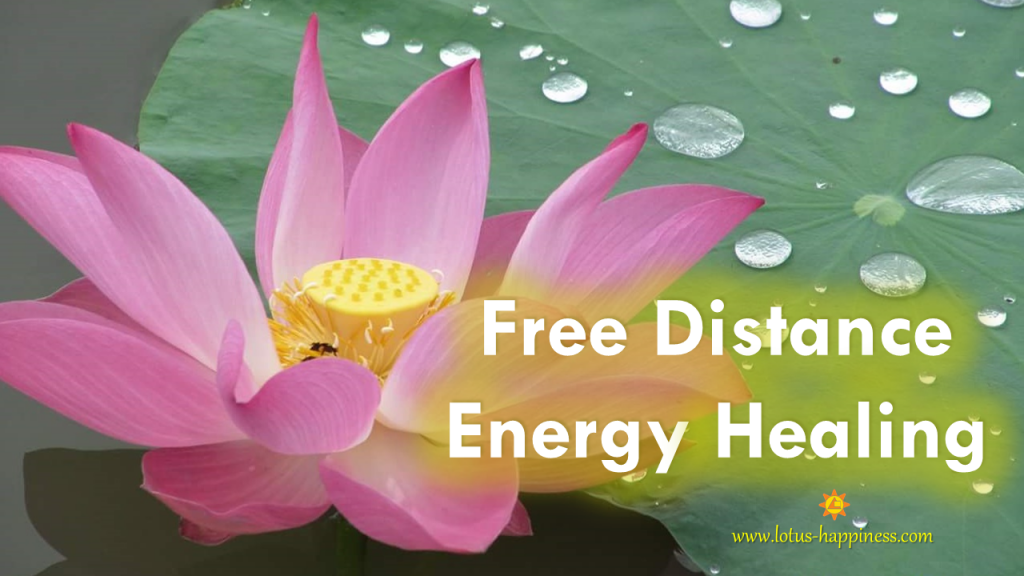 The spirit of generosity starts with volunteering and giving. I believe in volunteering and giving back to the community. This is especially so when I receive immeasurable benefits from my Buddhist practice of meditation and chanting.
As a full-time mom, blogger, author, and translator, I work at home. There are practically little to no opportunities for me to step outside home to volunteer during the week-days.
Thus, as part of my desire to contribute back to the humanity, I have decided to volunteer online by offering 100% FREE ENERGY HEALING SERVICES to those who need healing, be it physical, emotional, mental, or spiritual. It is my loving gift to you and all living beings in the Universe.
What is Energy Healing (Distance Healing)
Energy healing is part of the "Energy Medicine" that promotes the healing process through the power of thought, breathing, intention, prayer, and meditation.
As opposed to the "laying of hands" method used in face-to-face session, distance energy healing relies solely upon the power of thought and meditation through intention and concentration.
To find out more about various types of healing modalities, check out this blog post: 10 Types of Energy Healing Modalities
Why is Minerva Giving Free Healing Services 
I am tremendously inspired by volunteers who practices Longevitology (a type of energy healing modality that originates from Taiwan) and Bodhi Meditation ( a type of energy healing with roots in Buddhism) to provide free energy healing to people who need healing. They inspire me to volunteer my service online for free.
From my past experience, the fees charged for 1 hour of healing service usually range from SGD 130 – 200. Yes, it is incredibly exorbitant. Thus, not many people benefit from the gift of energy healing.
Being able to give is the greatest blessing in life. As the saying goes, "What you sow, so shall you reap" and "What goes round, comes around." The more you give, the more you receive. This is an immutable Law of Life. The value in life lies not in how much we receive, but how much we give to benefit another person.
"We make a living by what we get. We make a life by what we give." ― Winston S. Churchill
Minerva's Background in Spiritual Trainings
Quantum Touch Level 1 (Certificate of Completion)
Quantum Touch Level 2 (Certificate of Completion)
Silva's Method (Basic Lecture Series)
Silva's Method (Graduate Programme)
Longevitology (Basic and Intermediate Course)
Bodhi Meditation (TBA)
Note: Minerva has attended the Quantum Touch trainings but she is not a certified practitioner of Quantum Touch.
Testimonials
"I had a hip misalignment. As Minerva went into her meditation within a few seconds, I could feel a tremendous heat in my right hip. My hip was aligned after just one session! Thank you Minerva!" – Ying, 25, Malaysia
"My shoulder was lop-sided. After just one session of healing which lasted less than 2 minute, my shoulder was observably more balanced. Best of all, the result was permanent." – Tony, 33, Singapore
"My son was 5-year-old but he was unable to speak. After about one month of healing, my son was finally able to speak a few words. It was truly amazing! Minerva is highly recommended. " – Ms Lai, 40, Malaysia
Agreements Before Registration 
Before you register for free energy healing, your agreement to the following points will be helpful in your healing journey:
The energy healing online by Minerva is absolutely free because she is motivated by a spirit of volunteering and giving back to the community.
The energy healing conducted by Minerva is a combination of meditation, breathing, visualization, and Buddhist prayers. Please make sure you are comfortable with the healing modalities used.
You may request for healing in all aspects of your life, be it health, relationship, career, so long as they are wholesome and beneficial for you to achieve well-being and happiness.
Once you are in the database, Minerva will continue sending loving energy, thoughts, and prayers for your health, peace, and happiness indefinitely for the rest of your life, free of charge. Treat this as a gift from Minerva with an abundance of love.
There is no guarantee that energy healing works for you, even if multiple healing sessions are conducted. The results of the healing vary substantially among individuals. Depending on the individuals, there may, or may not be, any results. Thus, letting go of attachment and expectation to the healing outcome is pivotal.
Energy healing is an alternative healing modality that serves to complement existing medical treatment; it is not intended to replace your existing medical treatment. Please seek professional care if you are concerned about your medical conditions.
Registration for Free Energy Healing by Minerva 
For registration of free energy healing, please include your First Name, Email, and briefly describe your healing needs in 'Last Name'.
Your requests will be recorded in my mass Energy Healing List for my daily meditation, prayer, and healing energy to you.
If you wish to describe more about your healing needs, you may use the contact form below:
May you be free, healthy, and happy. 🙂
Nam Myoho Renge Kyo